About us
Welcome to MONASTIC IRELAND
A Gateway to Ireland's Medieval Past
Visitors travelling through the Irish landscape often come upon the country's uniquely rich medieval monastic remains. This is part of a shared European history as these houses were founded by international orders – Augustinians, Benedictines, Carmelites, Cistercians, Dominicans, Franciscans and other orders. Monasteries and friaries are in many Irish towns often standing on the site of a medieval gateway or close to a river, medieval route way or castle. Magnificent buildings dominate rural landscapes, some deliberately located in isolated places, others marking the location of medieval settlements that did not flourish. The artistic and architectural skills of master craftsmen and masons can be seen in fine stonework, in exceptional carvings and in the remnants of wall paintings. Tombs depicting a panoply of medieval saints – Catherine with her wheel, Peter with his keys, Patrick the bishop and Dominic the preacher – remind us of the patrons who endowed these houses, the great Irish and Anglo-Norman families (Barrys, Fitzgeralds, O'Donnells, O'Conors and many more). But these houses were not primarily the meeting places of lords and craftsmen. They housed communities of friars and monks who prayed at the same time as they played a part in the economic, political and social life of their environs. Their stories and those of their foundations are a gateway to the medieval history of Ireland.
The aim of the Monastic Ireland project is to assemble accurate and comprehensive information relating to the history, landscape and material culture of Irish monastic houses c. 1100–1700, presented online through www.monastic.ie.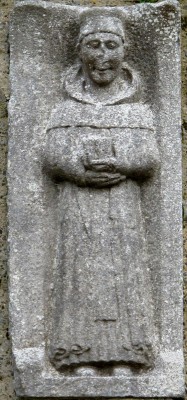 The Monastic Ireland project offers a gateway to:
THE VISITOR is led through a summary of a site's history and given a guided tour centred on an interactive plan of the foundation. The tour provides a gallery of images and explanatory texts on the site's architectural remains of the foundation.
THE RESEARCHER will be provided with a comprehensive listing of sources and, where available, links to information from medieval and early modern sources, a database of images, and where applicable information on previous archaeological work at specific sites.
THE STUDENT and their teachers will be offered resources that can be used by primary and secondary schools, undergraduates and local history communities. This will provide an important outreach aspect to the Monastic Ireland project.
The MONASTIC IRELAND team:
Our close collaborators at University College Cork:
The Monastic Ireland project has been funded through the Fáilte Ireland Applied Research Scheme and Department of Arts Heritage and the Gaeltacht (Built Heritage Scheme), University College Dublin (Phase 1: 2011-2013) and the Irish Research Council (2014-2016) and the Discovery Programme Centre for Archaeology and Innovation Ireland (2013-14 and 2016-2019)
The Monastic Ireland team are grateful to those who supported the project from its beginning:
Dr Niamh NicGhabhann, University of Limerick;
Professor Janet Burton, University of Trinity St Davids Lampeter & Dr Karen Stöber, University of Lleida, Barcelona (coordinators of Monastic Wales);
Dr Elaine Pereira-Farrell, University College Dublin/University of Utrecht;
Dr Rachel Moss, Department of History of Art and Architecture, Trinity College Dublin;
Dr Miriam Clyne Department of History of Art and Architecture, Trinity College Dublin.
Dr Danielle O'Donovan, TCD Bridge21;
Dr Colmán Ó Clabaigh OSB, Glenstal Abbey, Co. Limerick;
Heritage Island, Dublin;
The South West Regional Authority;
Rhys Jenkins, Open – Creative Design Agency;
Ultan O'Brien, National College of Ireland;
Ciaron Fitzpatrick & Ian McCarthy, The Discovery Programme;
Nigel Callaghan, Technoleg Taliesin Cyf;